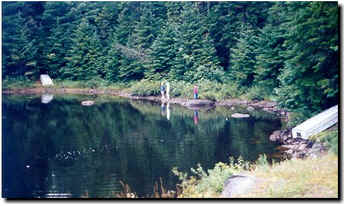 Brook trout are plentiful in the many streams and flows of the club property. These little streams are a fly fisherman's dream. Most are no more than six feet wide and have deep pools that hide some of our largest brookies.
The club members also support a stocking program. Only brook trout are stocked. This stocking does not happen every year to insure a healthy native population. The main body of water, which serves as the stocking site, is called the Beaver Flow.
On the Beaver Flow, the members are allowed to use canoes and row boats. Boats with electric trolling motors are also allowed. Outboard motors and motor boats are not allowed. We like to preserve the wilderness feeling of the property as much as possible.
Access to the Newcomb Lake and Newcomb River, within the Santononi Preserve, is possible via a short hike or portage and canoe paddle. These waters offer excellent lake trout, stream trout and bass fishing opportunities.
The last famous body of water accessible to club members is the Hudson River. Newcomb, New York is where the Hudson River takes form as a true river. It's source is believed to be Lake Tear of the Clouds on New York's highest peak, Mount Marcy. Below the "Flowed Lands" the river finds it's true course through club property. Because both shores are privately owned and leased by the club, members have sole fishing rights to this excellent fishery. On the Hudson River, the "Pike Hole" is another jewel of the club. Sport fishermen enjoy the fight of the powerful pike.
All members intending to fish on the club property must possess a valid New York State Fishing Lisence and observe the Conservation Laws of New York State.