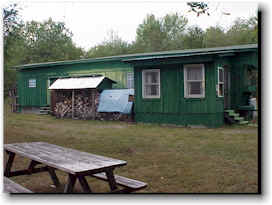 Many members construct camps or cabins on the Club property. The Club permits this with prior approval from the Board of Directors and Upper Hudson Woodlands ATP, LP. An additional fee is required. The Club has designated sites available for construction.
A few of our members have put their camps up for sale. Members are eligible to purchase these structures. All camps are on approved sites. So, if you don't want to build, maybe a pre-constructed camp is what you are looking for.
Camping is allowed on the club in designated areas. You can bring your self contained camper onto the club and stay on the property. But remember, if you carry it in, you carry it out. The Club has also created a few sites for temporary "lean-to" camping. There are no structures on these sites, but an area has been cleared where a tarp can be hung for shelter.