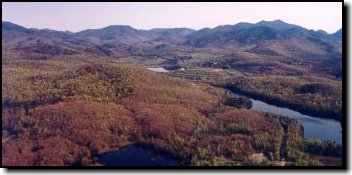 The Newcomb Sportsmen's Club property is a 7,000+-acre recreational preserve leased from Upper Hudson Woodlands ATP, LP" . Upper Hudson contracts with F&W Forestry Services, Inc to manage the lands..The club was established in 1958 and is one of the longest lived clubs in the area. It is situated in the high peaks region of the Adirondack Mountains off Route 28N south of Tahawus in the Town of Newcomb, Essex County, New York. The club property also provides access to Newcomb Lake and the State-owned Santononi Preserve.

Club members are dedicated to promoting the ethics of good conservation and environmental stewardship. We care for the lands we lease and in turn the lands reward us with spectacular views, wildlife and recreational opportunities. Come explore our special treasure.
---
November General Membership Meeting
The Fall General Membership meeting scheduled for Saturday, November 2, 2013 at 7 PM was originally to be held at the Newcomb Fire House. Since the Fire House is undergoing renovations, the meeting location has been changed to the Visitors Interpretation Center (VIC) located on NYS RT 28N. The entrance to the VIC is located west of the Fire House across from the stone-walled cemetery. This change in location is only for this meeting. The Spring Meeting will take place at the Fire House. The Board of Directors meeting will take place at 5 PM at Joe Novak's house. If you have any questions call Walt at 518-783-8749.
---
Download our most recent Club Brochure